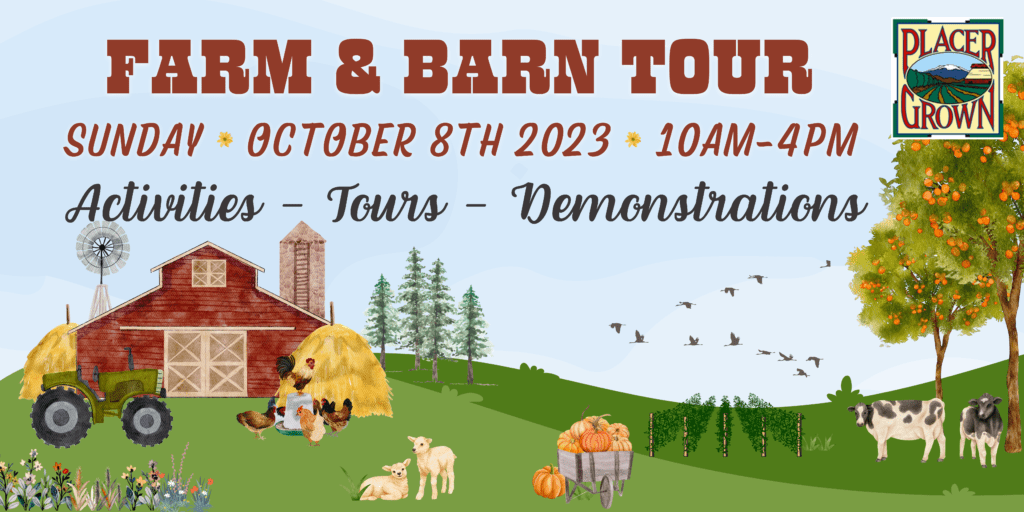 Placer County's 2023 Farm & Barn Tour was an incredible experience for all!
We want to express our heartfelt gratitude for the fantastic Farm & Barn tour event. It was an incredible day filled with fun, education, and experiences and we can thank our farms and ranches enough for the incredible day!
The opportunity to explore our county by visiting each site, meet our farmers and ranch owners, meet the animals, learn about farming practices, and immerse ourselves and our children in the world of agriculture was truly inspiring. It was not only an enriching experience but also a great way to connect with nature and appreciate the hard work that goes into agriculture.
We also want to extend our appreciation to all the organizers, volunteers, vendors and experts who shared their knowledge and passion with us during the tour. Their enthusiasm and expertise added a special touch to the event and made it an unforgettable day.
Additionally, word from our farmers and ranchers was that the community who visited were all so inquisitive, respectful, and gracious! The kindness and warmth displayed by the community were truly heartwarming. Your curiosity and eagerness to learn about the inner workings of the farms and ranches were remarkable and made the experience all the more enjoyable. The respect shown towards the animals and the land was a wonderful testament to the values of our community.
Thank you all and we look forward to seeing you all again next year 2024!
SCROLL DOWN TO SEE INTERACTIVE MAP AND LISTINGS!